The Best Volunteer Opportunities for Seniors
Category Blog | Time 3 Minutes | Published May 24, 2022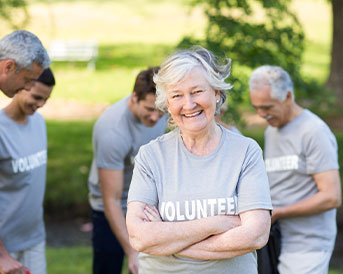 Older adults have valuable life experiences, and retirement is an opportune time for seniors to give back by sharing what they have learned.
Older adults have valuable life experiences, and retirement is an opportune time for seniors to give back by sharing what they have learned.
Senior volunteers can be assets to any project, organization, or initiative, and the agreement is beneficial for both sides. From physical activities to sharing knowledge in a variety of settings, retirees have plenty of options for volunteering, and just need to know where to look.
Life Care Services® has compiled a list of top volunteer opportunities for seniors, and we'll go over why volunteering for seniors is important.
Where Can Seniors Volunteer?
Everyone, regardless of age, wants to feel like they are contributing to society. There are a number of retired senior volunteer programs and activities that are fulfilling and provide older adults with a feeling of inclusiveness.
Hunger, Service, and Relief Organizations
Older adults have a wide variety of options to give back, including through organizations that distribute food, clothing, and resources to those less fortunate.
Examples include:
There are an endless number of other organizations that offer local senior volunteer programs like Habitat for Humanity and the American Red Cross. Find an organization that meets your interests and skillset!
Mentorships
Senior volunteers have a lot to offer younger generations who look to them for advice and guidance. Older adults often work with children and young adults through mentorship programs. This can include academic tutoring or school-sponsored reading programs, but also social and cultural mentorships through organizations like Big Brothers Big Sisters of America.
Additionally, many of these bonds can be forged through intergenerational activities that are often facilitated through Life Care Services senior living communities. From daycare partnerships to arts and crafts, there is an abundance of options for seniors and children to explore and grow together!
Entertainment and Cultural Centers
Seniors are valuable contributors to local groups that provide entertainment and cultural services for communities. Volunteer work for seniors is needed at the following venues:
Museums
Historical sites
Community tours
Theatres
Concert venues
Sporting events
Gardens/nature centers
Many older adults are perfect for these roles as they may already have significant knowledge in specific areas. What was once considered a hobby or interest can be turned into a daily or weekly volunteer opportunity.
Animal and Agricultural Organizations
Volunteering for seniors doesn't always have to include human-to-human interactions. Many local humane societies, animal shelters, and related organizations have opportunities for older adults to care for animals.
Organizations like 4-H also have local clubs where seniors can work with youth through agricultural education, Science, Technology, Engineering, and Math (STEM) initiatives, and more.
Assisting Military Veterans
Supporting local military service members and their families is a critical desire for many seniors. This connection is associated with the national pride that many have garnered themselves from serving in our nation's armed forces. There are many volunteer opportunities for seniors who want to assist veterans.
Organizations and projects include:
Veterans of Foreign Wars (VFW) – Dedicated to volunteerism, Veteran's Affairs (VA) assistance, and honoring those who have served. Local VFW posts and VFW auxiliary also provide a sense of community
United Service Organizations (USO) – Connecting volunteers to servicemembers through special events, welcoming ceremonies for troops, and more.
Honor Flight Network – Celebrating America's veterans through trips to national memorials.
Fraternal Societies & Community Organizations
Many seniors find fulfilling volunteer work through connection and inspiration. Join a fraternal or community organization that provides charity and outreach to make a difference, such as:
From providing scholarships and financial support for medical care to a multitude of other measures, volunteering as a dedicated member of an organization provides its own sense of community while helping others.
Why Should Seniors Volunteer?
It's clear that there are many ways for seniors to get involved with volunteer activities, but why is it important to them?
The short answer is fulfillment and time well spent. Those two reasons look different for everyone, but generally, senior volunteers have the opportunity for the following:
To learn something new
To make new social connections
To relieve stress
To find new interests
To immerse themselves in existing interests
To learn
To effectively manage their time
Experience is Everything at Life Care Services
The senior living lifestyle is never defined by one activity or amenity. However, volunteer opportunities for seniors provide gratification for residents, allowing them to experience joy and recognition for their continuing contributions as older adults. Life Care Services communities are available for seniors and their families to begin to define those experiences, and our staff is here to provide the support and care necessary. We will help you or your loved one determine the next steps for an enriching life. Get in touch with us and talk with our team about your ambitions. Find a community in your area, today!