Age Is Just a Number: Five Signs It's Time for Assisted Living
Category Blog | Time 3 Minutes | Published February 27, 2023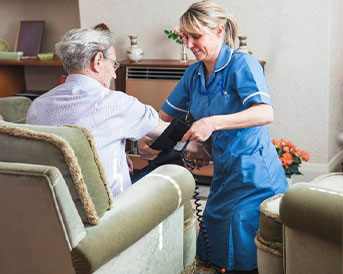 Modern senior living communities are comfortable, pleasant places to live and offer wonderful amenities and services. Today's assisted living is very different from years ago. Still, as a caregiver or loved one of an older adult, it can be challenging to determine if they're ready for assisted living. We'll look at the five most common signs indicating your loved one is ready for assisted living.
What is Assisted Living?
First, let's define assisted living. Assisted living is a form of long-term care that helps seniors with activities of daily living or ADLs. ADLS are skills we use every day, such as bathing, grooming, dressing, and eating.  Sometimes, assisted living can be provided temporarily for someone recovering from an illness or injury. However, if you need permanent assistance with daily tasks, then it's time for assisted living.
Sign #1: Worsening Health Conditions
Declining health is often a sign that it's time for assisted living. If a senior lives alone, it could be harder for them to seek medical care. Unchecked medical conditions could increase their risk of falling or other life-threatening injuries. Any time a loved one experiences a fall or worsening health condition, it may be a sign that assisted living is a safer and healthier living option.
Sign #2: Social Isolation and Loneliness
Has your loved one stopped going out and visiting friends or engaging in social activities? If a senior has lost the ability to drive, it can be very easy to isolate.
Seniors who have lived in their homes and neighborhoods for many years may have lost familiar neighbors and friends. Entire neighborhoods may have changed, leaving loved ones with no one to talk to. There are many negative health consequences of social isolation for seniors. Social isolation can even lead to poor choices when it comes to health and safety.
At assisted living communities, residents can enjoy scheduled activities and social events throughout the week. At senior communities, fun and lively activities are just outside your residence door.
Sign #3 Unable to Manage the Home
Part of living independently is managing the home and yard safely. A common sign it might be time for assisted living comes from the house and yard. Hazards that might make living at home dangerous include:
Excessive clutter
Spoiled food
Poor lighting
Perhaps bills aren't being paid, or the yard work is no longer completed. These all could indicate that assisted living is a better and safer option.
Sign #4 Forgetting or Unable to Take Medication
We can all forget to take medication from time to time, but when it becomes a habit, it could become a life-threatening problem for a senior who lives alone. Under medicating or accidental overdoses is a real concern. If a senior has more complicated medication management, such as insulin shots or blood pressure checks, they may be physically unable to manage or administer it independently.
In an assisted living community, nurses can support residents with medication management and administration.  24/7 care is available from caring staff which can help residents by:
Preventing overdoses
Recognizing allergic reactions and sensitivities
Administering the correct dose at the right time
Looking out for side effects
Peace of mind for family and loved ones.
Sign #5 Poor Eating Habits
Physical limitations and depression can cause seniors' healthy eating habits to decline. Perhaps they cannot get to the grocery store regularly and now rely on low-nutrition convenience foods. A senior living alone may feel overwhelmed with grocery shopping, cooking, and cleaning for a day's worth of meals. What was once a pleasurable activity of dining with friends and family now may be more of a chore.
Today assisted living dining services are more sophisticated. Communities offer elevated dining experiences with:
Restaurant-style dining
Professionally trained chefs
Seasonal menus
Brain and heart-healthy foods
Accommodating diets (vegan, vegetarian, gluten-free, etc.)
Private dining rooms
Casual bistros
Coffee shops
Cooking classes
Senior communities know that mealtime is important for residents and continue to update their offerings, culinary diversity, and dining experiences.
The Right Time for Assisted Living
For adult children it can be a struggle to determine when is the right time to help their parents find an assisted living community. However, if any of the above signs sound familiar, your loved one could benefit greatly in a senior community. Choosing the right community will take some research and guidance, and there are steps that will make the transition a smooth one for all. Life Care Services has over 130 communities across the U.S. and offers multiple living options that support a healthy, safe and peaceful lifestyle. Find a community near you or contact us today!