Sparty almost ended up in the trash. Cyrus Stewart prevented that, and launched a legacy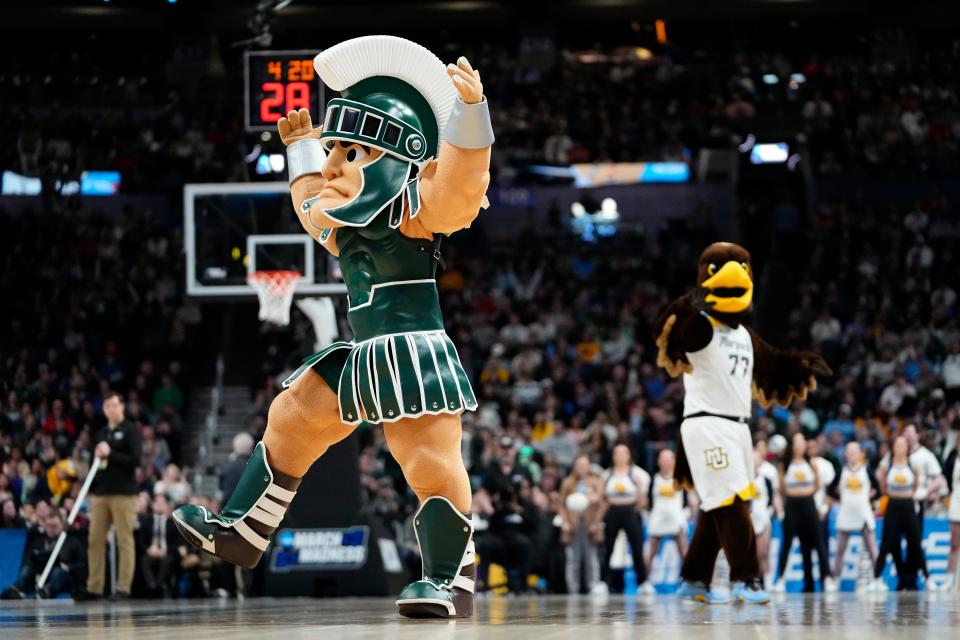 EAST LANSING — It's been 60 years since Cyrus Stewart walked into Spartan Stadium as Sparty, but he bears physical proof that he was one of the very first students at Michigan State University to portray the mascot.
"Give me your finger," Stewart, 82, said Wednesday afternoon, his voice echoing off the high ceiling inside the west lobby of Spartan Stadium. Just a few feet away stood the original Sparty statue, unveiled in 1945 and moved inside the stadium in 2005.
He points to his own nose, "Put your finger right in there. Can you feel the dent?"
The obvious dent is at the bridge of Stewart's nose, where the mouth of the more than 4-foot-tall, 30-pound, fiberglass Sparty head rested when he wore it during football games from 1959 to 1963.
"The problem was it was so damn heavy," he said. When Stewart was running onto the field its mouth would slam back into the bridge of his nose repeatedly, he said.
"So many times when I came out of the game I'd have two black eyes."
That was the price he paid to be Sparty — long before the mascot's outfit was redesigned and became much lighter and safer to wear. Stewart, who went on to teach at MSU for more than 50 years after he graduated said taking on the role was a seminal experience, worth every bump and bruise.
"I think Sparty represents everything that's good about Michigan State," Stewart said.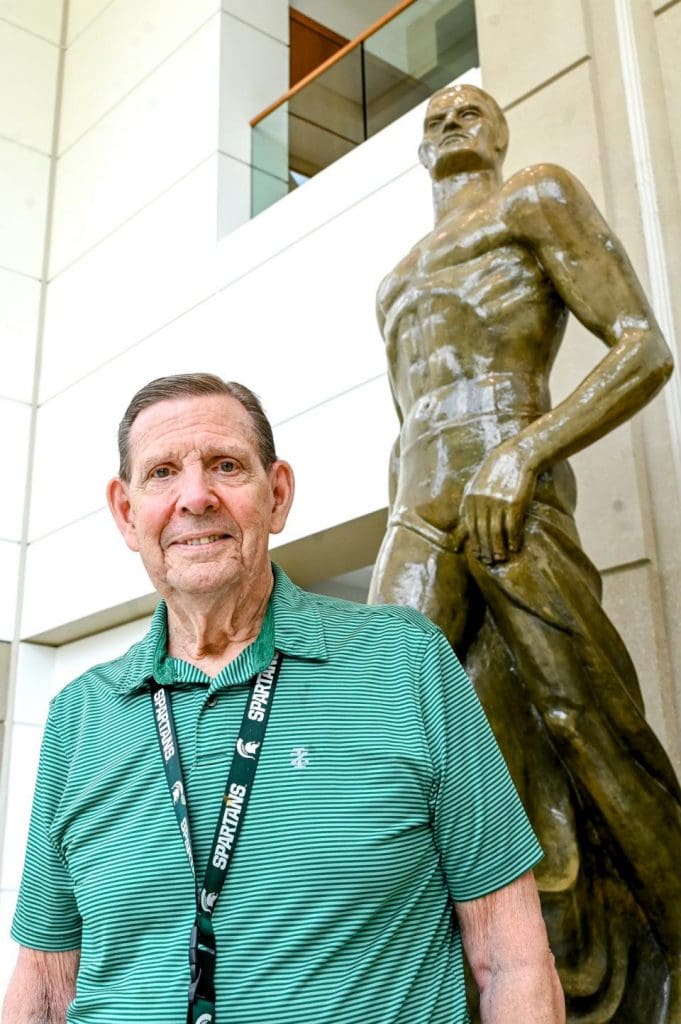 Over the mascot's 68-year history, the students who have portrayed him have said being Sparty was, and always will be, bigger than any of them.
The mascot is, without a doubt "one of MSU's biggest hype men," said Caeden Hunter, 21, who portrayed him for four years before graduating this spring.
Hunter's time as Sparty is separated from Stewart's by six decades but Hunter feels the same about the mascot's significance. Sparty is about so much more than sports, he said: "The excitement that follows him is something that's really cool. He's a big pillar of the MSU community."